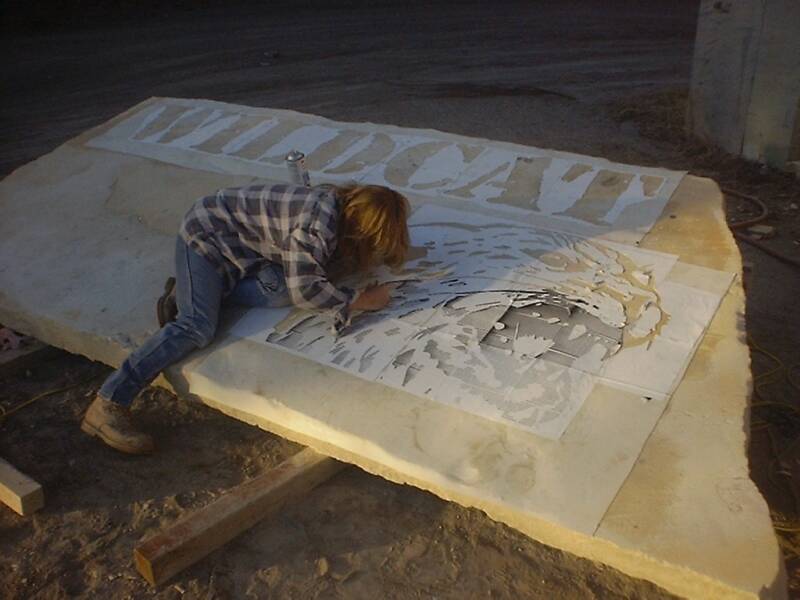 Hi.  I'm Kathy, owner and operator of Scarecrow Stone & Steel.  Located just outside Hill City in northwest Kansas, we design and create a variety of unique products sold to happy customers nationwide.  Our team consists of me - chief in charge of most everything;     hubby Tim - installer, coordinator, creator, and all around go getter;  and our furry consultants, Chance, Dude, and Booger.

Our business began taking shape in 1991, when we discovered the fascinating art of sand carving.  Working with native post rock limestone we ourselves quarried, we soon were supplying customers from all over the country with solid, long lasting name and address stones for their homes, businesses and communities.  We soon wanted to learn to blast everything, from flagstone and granite to glass and mirrors.  The purchase of a plotter in 2004 allowed us to begin making vinyl decals and signs, opening up an entire new area to create in.   

In 2005 we carved our first granite memorial, requested by a dear friend.  In researching the techniques used, we realized a need for a more down to earth approach for providing this service to the average 'Joe' in today's economy.  And we thought...... hey, we can do that!

You'll find no fancy showrooms or three piece suits here.  Just an honest, hard working, and friendly bunch who'll treat you like family.

Some pictures of us at work.